Surface preparation is one of the most important phases of installing a top-quality flooring system and surface preparation is Floor Logics specialty. Quite simply, no other company can match Floor Logic unique combination of experience and equipment to get this important job done right, and get it done quickly.
Surface preparation ("prep") is the demolition/removal of existing coating or flooring systems and preparation of the underlying concrete surface through mechanical abrasion for installation of a new flooring system. Whenever an industrial, commercial and even residential building is being remodeled or renovated, it's likely that the flooring will need to be at least repaired and in many cases it must be completely replaced. In order to install the new flooring system, this existing flooring must first be demolished and removed. Following this, and equally importantly, the concrete slab must be prepared for the installation and preparation of the new flooring system. Only after this can the new finished flooring system be installed. 
The Importance of Proper Surface Prep cannot and Should not be taken lightly especially with today's flooring manufactures asking for smoother flatter floors. Details are extremely important to proper surface prep.At first, surface prep may not seem such an important part of the remodeling and installing a new flooring system. No one will see the old concrete slab or how the old flooring or coating was removed, so how much does it really matter? Although it may just seem like an annoying chore, flooring manufacturers will tell you that the success of ANY new flooring system is critically dependent on how the old flooring was removed and the new surface prepared. Put simply, if the surface prep is not done correctly, the new flooring system will not be as durable as it should be and its other properties (such as chemical resistance or moisture mitigation) may also be compromised. It's a waste of both time and money to have a new flooring system fail, so it's essential that surface preparation is done right.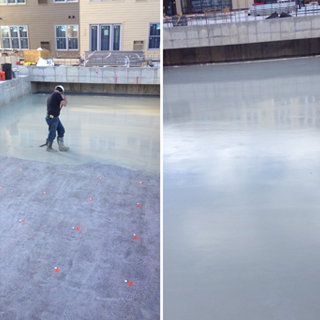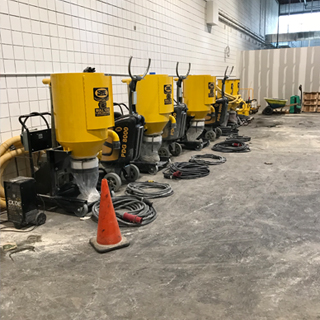 Floor Logics focus is to quickly and efficiently remove existing flooring systems and prepare surfaces for new flooring and/or coatings. Our state of the art highly specialized machines are used, including: diamond grinders, shot blasters, milling machine, 2 in house self-leveling mixing pumps, industrial vacuuming systems, slurry processing machines and scarifiers.. All this equipment is specifically-designed to remove existing flooring systems quickly and safely, without damaging the underlying concrete slab. Use of these machines also largely avoids the need for powerful chemicals, which can be hazardous to human health and the environment. By using these state-of-the-art machines, Floor Logic offers surface preparation for premises small and large.
FLOOR LOGIC SURFACE PREPARATION MACHINERY CAN TAKE CARE OF:

Shotblasing is a dust free method of removing contaminants such as carpet glues, tile glues, mortar beds and profiling the concrete to accept new coatings or other types of floor covering materials. In order for a new coating or overlay to bond properly, the concrete must be clean and have a surface the consistency of 80 grit sand paper. Shotblasting is the most widely recognized and accepted method for concrete preparation in the industry.
If a concrete slab needs to be leveled, our self-leveling pumps can handle as much as 30,000 feet in one day. They can correct uneven floors, repair damaged concrete, and provide a smooth and durable new surface for decorative treatments. These flowable polymer-modified toppings have the ability to self level without troweling, making them a quick solution for smoothing and leveling worn or uneven concrete.
We have 2 mixing pumps for self-leveling. Each pump is capable of producing up to 7,000 ft per hour
Diamond grinding is a great alternative to shotblasting when a coating needs to be scuffed or removed prior to new coating application without damaging the top layer of concrete. Diamond grinding is also a great method of glue and mortar bed removal. Various levels of profile can be achieved with the use of more course or fine diamond tooling.
Floor Logic can remove any coatings and/or provide the shine of your choice with our many grinders
Grinding and sealing is system to a achieve a polished concrete floor look, but is cheaper and very commonly used. The concrete is ground back to achieve the desired stone exposure level and then sealed to produce a high gloss or matte finish. Sealers are usually clear and can be water or solvent based acrylics, epoxies, or urethane. A stain ban be used with grinding & sealing to create a decorative flooring.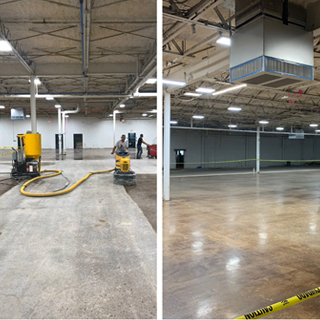 Did you know that moisture is the cause of 70% of all flooring failures. While moisture is needed in a concrete slab to maintain, excess moisture can damage floor finishes and can cause additional headaches, such as mold and mildew. We have a way to test for moisture and remediate it, if necessary, prior to any final treatment. There are a variety of products to combat this issue, with many being epoxy-based treatments applied prior to finishing. Moisture mitigation is important to keep your construction on schedule and to protect your concrete flooring investment.
Using one of our three terminators, Floor Logic can remove 10,000 square feet of floor covering per day which helps projects stay on schedule, saves time and money over manual removal options. Floor Logic offers both propane-powered and electric units for specific job site needs.
These units remove carpet, carpet tile, VCT tile, LVT tile, sheet vinyl, ceramic tile, marble, and hardwood in no time.