Using one of our three terminators, Floor Logic can remove 10,000 square feet of floor covering per day which helps projects stay on schedule, saves time and money over manual removal options. Floor Logic offers both propane-powered and electric units for specific job site needs.
These units remove carpet, carpet tile, VCT tile, LVT tile, sheet vinyl, ceramic tile, marble, and hardwood in no time.
Shotblasing is a dust free method of removing contaminants such as carpet glues, tile glues, mortar beds and profiling the concrete to accept new coatings or other types of floor covering materials. In order for a new coating or overlay to bond properly, the concrete must be clean and have a surface the consistency of 80 grit sand paper. Shotblasting is the most widely recognized and accepted method for concrete preparation in the industry.
Diamond grinding is a great alternative to shotblasting when a coating needs to be scuffed or removed prior to new coating application without damaging the top layer of concrete. Diamond grinding is also a great method of glue and mortar bed removal. Various levels of profile can be achieved with the use of more course or fine diamond tooling.
Floor Logic can remove any coatings and/or provide the shine of your choice with our many grinders.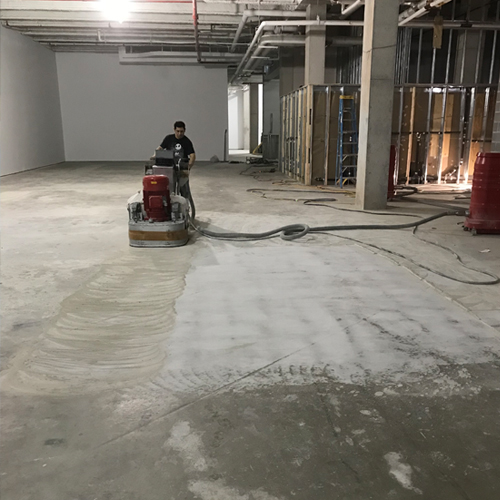 Looking for professional carpet removal? In many homes and businesses, carpeting is the perfect accessory. It is luxurious and warm. The carpet is appropriate for both commercial and residential usage.
Unfortunately, carpet does not last forever. Carpet gets worn and stained over time, especially in high-traffic areas in the commercial environment. While it can be cleaned, there comes a point in time where it may need to be removed and replaced.
Whether your carpet is older or if you are just looking to redecorate, the first step to replacing carpeting is the removal process. While some feel this portion of the redecorating process can be a do-it-yourself project, you should employ the services of a professional. Carpet removal can be a painstaking process without the proper equipment.
Tile flooring isn't created to last forever, and after decades of regular wear and tear, it may look out of place. Broken tiles, stains, dings, and dents will take away from the look of any room, and these imperfections are likely to draw the eye of visitors as soon as they enter. You only get one first impression don't make the wrong one. Floor Logic tile removal services can handle removing any type of tile surface, no matter the size!
We offer residential and commercial services. Ceramic Tile, Porcelain Tile, Mexican Tile, Spanish Tile, Stone Tile, Clay Tile, Marble Tile, and other types of tile.