RESIDENTIAL FLOOR REMOVAL
Shotblasing is a dust free method of removing contaminants such as carpet glues, tile glues, mortar beds and profiling the concrete to accept new coatings or other types of floor covering materials. In order for a new coating or overlay to bond properly, the concrete must be clean and have a surface the consistency of 80 grit sand paper. Shotblasting is the most widely recognized and accepted method for concrete preparation in the industry.
Using one of our three terminators, Floor Logic can remove 10,000 square feet of floor covering per day which helps projects stay on schedule, saves time and money over manual removal options. Floor Logic offers both propane-powered and electric units for specific job site needs.
These units remove carpet, carpet tile, VCT tile, LVT tile, sheet vinyl, ceramic tile, marble, and hardwood in no time.
Diamond grinding is a great alternative to shotblasting when a coating needs to be scuffed or removed prior to new coating application without damaging the top layer of concrete. Diamond grinding is also a great method of glue and mortar bed removal. Various levels of profile can be achieved with the use of more course or fine diamond tooling.
Floor Logic can remove any coatings and/or provide the shine of your choice with our many grinders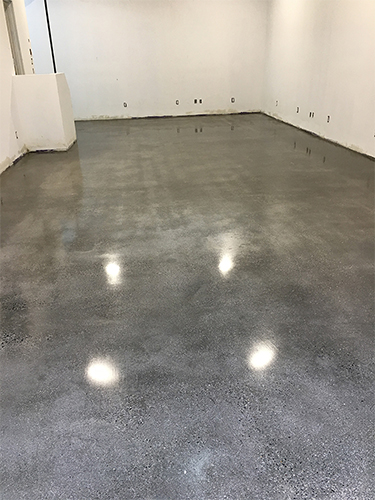 Grinding and sealing is system to a achieve a polished concrete floor look, but is cheaper and very commonly used. The concrete is ground back to achieve the desired stone exposure level and then sealed to produce a high gloss or matte finish. Sealers are usually clear and can be water or solvent based acrylics, epoxies, or urethane. A stain ban be used with grinding & sealing to create a decorative flooring.